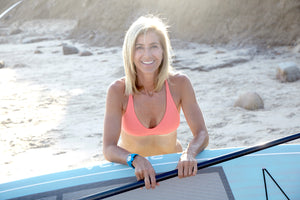 The Paddle Diva
It was 2010 and I had just gotten out of the water at Dana Point, CA from a paddle surf session. It was the one time a year us "sweepers" were permitted to get in the lineup at Dana Point and paddle surf. For those who recall and remember the good days of BOP you know what I'm talking about. We were a young community of paddlers then. All of us were eager to carve out an existence that kept us both in tune with fitness and water, fun, adventure, friends and family. I dried off and was busy setting about the Ocean Lineage exhibitors tent when in walked a sun-kissed fitter-than-most woman with a smile that a mother would greet her child with after a year of being apart. She stretched out her hand and said, "Hi, I'm the Paddle Diva…Gina."
Gina Bradley and I have been friends ever since and there is never enough time to catch up with her on one side of the country and I on the other. We are highlighting some of the more influential people in our industry and Gina stands as one of the innovators. She's one of the originals. As a surfer, windsurfer and SCUBA instructor she was hooked when she saw Laird Hamilton on a trip to Hawaii in 2007. Her first board was fashioned by her husband and custom built by Nature Shapes, a local custom surfboard shaper. It was wide and big sans handle. The moment she launched she knew she would be involved in the sport in some way. Over the next two years she acquired more boards and found herself most days paddling with some of her girlfriends after dropping the kids at elementary school. It was on one of these paddle trips in the Hamptons that she had the thought to open a paddle boarding business with the singular goal of making it accessible to all. Now days that seems a familiar tale; but we are talking 2009. It may not seems that far in our rear view mirrors but those are the same days I remember people in the line up asking me, "What is that thing you are standing on?" Gina's business would be built on creating a new type of watermen and waterwomen via lessons and experiences. Over a few dinners with her husband the two hatched a plan to create Paddle Diva. A name that Gina would eventually be known by as well as the name of the business.
There are many stories over the last decade in which The Paddle Diva had to change her business model to accommodate the shifting sands of the Paddleboard industry; however, she has grown to include a foothold in many resorts in the Hamptons and launched a Paddle Diva at the Boca Resort & Club in South Florida. Her goals are to expand the Paddle Diva to resorts along the entire east coast and who knows…maybe one day internationally. Her new book, titled appropriately, "Paddle Diva" just dropped and is available at Amazon or Barnes and Noble. To say she has put her footprint on our industry would be an understatement.
The sub text of Paddle Diva says it all, "Ten Guiding Principles to Finding Balance on the Water and in Life." The book has given a platform for her to share her passion and desires not just about being on the water but the things she is most passionate about. Through her work she gets to be on the water every day. Her most prized time is the time with students and friends on the water. It affords her the ability to gain back what she is giving freely: A smile, laughter and freedom from boundaries. She's able to share her passion about managing our oceans better for conservation of our best resource. She's able to see the change that transforms a stumbling child on a board for the first time to an accomplished waterperson that can navigate freely. The water and the ocean is a relationship to her as it is to many of us. As she says, "The water informs me."
Going back to when I first met Gina she had an infectious happiness about her soul. The kind that can make even the grumpiest Eeyore feel as though they should be enjoying themselves. We are proud to have her as one of our friends and we too hope that you will get the opportunity to paddle with The Paddle Diva.
---
6 comments